/ Certificate IV in Beauty Therapy: Beauty Kit
As a student of the Certificate IV Beauty Therapy you'll receive a professional beauty kit* to use while you perfect your practical skills and get your career as a successful Beauty Therapist off the ground.
We've partnered with some of the beauty industry's biggest and most reputable companies, including Crown, Algologie, Hawley Nails, Caronlab, Lash By Lash and Belmacil Tints, to ensure the tools and equipment you receive are professionally tried and tested and of the highest quality.
Everything you need to become a competent and confident Beauty Therapist and keep your clients looking and feeling fabulous is included.
Hawley Manicure and Pedicure Kit
Hawley International has been providing high quality professional products for over 75 years at both a professional and retail level. In this kit, you'll have everything you need to perform high quality manicures and pedicures, leaving your clients' hands and feet feeling amazing.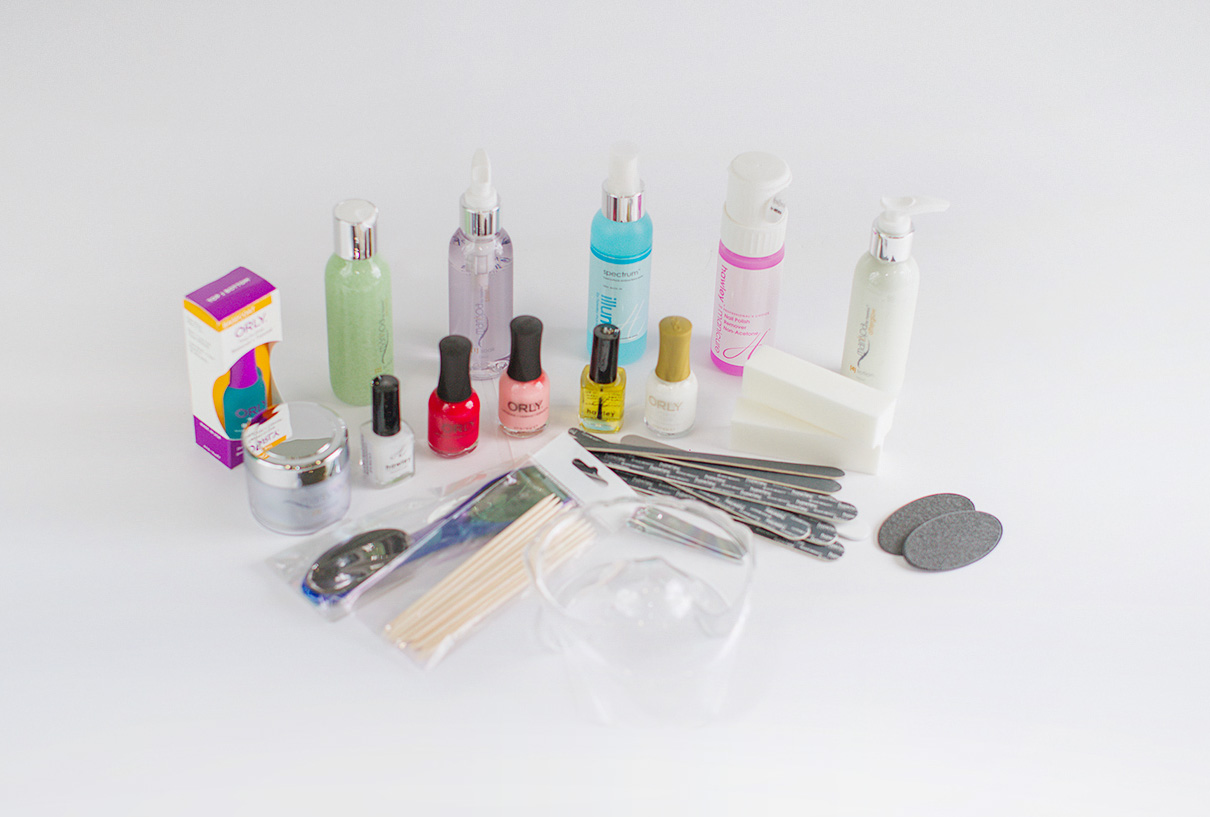 Your Hawley Kit contains the following:
Manispa Blissful Soak 125ml
Manispa Revival Scrub 125ml
Manispa Afterglow Lotion 125ml
Manispa Purify Mask 100gm
Nail Polish Remover 125ml
Hawley Cuticle Conditioner 15ml
Hawley Cuticle Oil 15ml
Manicure Bowl
Illume Spectrum Hard Surface Antibacterial Spray 125 ml
Orly Haute Red 18ml
Orly White Tips 18ml
PEDIPAD'L w/replacement discs
Orly Kiss the Bride 18ml
X3 Black Beauty Wide Tapered
X3 Black Beauty Wide
X2 White Block Buff
10 pck Wooden Orange Stick Point & Bevel
Replacement disc for PEDIPAD'L
Toe Nail Clippers
Think Beauty Card
Bag with Handles
Orly Top to Bottom 18ml
X2 Satin Buffer 3 Way Budget
Lash by Lash Eyelash Kit
Your Lash by Lash eyelash extension kit has everything you need to perform the finest eyelash extension services.
In the Lash by Lash kit, you will receive the following items:
X2 Vetus tweezer 1 straight, 1 curved
Jade Stone
Medical Tape
Blower
Lash Kit Bag
X20 Mascara Brushes
X10 Eye pads
Silk Lashes in a tray C 0.15
Mink Tray B0.15 Mixed Tray
X2 Glue Ring
Ultra Pack Glue Primer Remover
Pro Long Lash Cleanser
Volume Ring
X20 Micro Brushes
Caronlab Waxing Kit and Belmacil Tinting Kits
Since Caronlab came onto the market back in 1979, the brand has been providing beauty professionals all over the world with high quality, easy to use waxing products and equipment.
From Glittering Grace to Beyonce the Blue, Vivacious Violet to Raunchy Ruby, the Belmacil women are a colourful crowd! Belmacil Lash and Brow Tints can help transform your client's look.
The waxing kit contains:
Caronlab 500g Wax Heater
Brilliance Hard Wax 400g
Olive Oil Strip Wax 400g
Caron Large Tongue Depressor Spatula
Caronlab Face Washer
Ancillary 7 Pack:
1 x Citrus Clean Solvent 125ml
1 x Quick Dry Mist 125ml
1 x Venetian Spun Lace 50pk of Strips
1 x Hand & Body Sanitising Gel
1 x Pre Wax Skin Cleanser
1 x After Waxing Oil 125ml
1 x Grip Tweezers
The tinting kit contains:
Oxidant
Blue Black Tint
Light Brown Tint
Packet of Papers
Crown Makeup Kit
With over 30 years of brush making tradition in the USA and worldwide markets, Crown Brush Australia can offer you the largest range of professional makeup brushes with over 700 different styles.
Crown Brush Australia is a leader within the professional make up industry and can offer a number of different products from Pro Brushes, Makeup Palettes, Student Kits and a wide range of cosmetic items.
Ultra Foundation 6 Palette
Kryolan Concealer Duo #1
Kryolan Eye 10 Palette
Kryolan Aust Lip Pencil Nude
Kryolan Contour Pencil Combi
Kryolan Lip 5 Palette
Kryolan High Gloss Crystal Rose
EssaKryolan Brush Set 12pc
Duo Clear Adhesive 7g
Kryolan Individual Lash Med
Kryolan Brush Cleaner 125ml
Kryolan Large Makeup Bag
Disposable box
Mascara wands & Lip Brush
JD All Effect Mascara 60 Black
Algologie Facial Kit
Maintaining beauty, preserving youthfulness and improving well-being with natural marine extracts is the philosophy of Algologie. The Algologie Facial kit contains professional, natural and unique products derived from the sea to leave your clients' skin performing and feeling its best.
The kit contains the following:
Caress Cleanser 250ml
Mist of Roses 250ml
Eye Makeup Remover 150ml
Moisture Fix 50ml
Comfort Mask 75ml
Cleansing Granules 125ml
Massage Cream 475ml
Algae Maceration 30ml
Sunblock SPF50 50ml

*All products and kits are subject to change without notice. Products in kits will be substituted with similar items if unavailable. Products in kits may change if Open Colleges is required to make amendments to the learning materials.
You will receive the kits as you progress in your course, not on enrolment.