/ How to Become a Business Analyst - Career Salaries, Job Stats & Education
Looking For a Career as a Business Analyst?
If you'd like to boost your impact in the business world, becoming a certified Business Analyst is an empowering next step. Enhance your skills and build knowledge and confidence to drive your career forward with access to a broad range of Open Colleges' qualifications, most of which are formally accredited with AQSA to meet national standards. This means your qualification is recognised across Australia*. You can gain the specific skills you need to become a certified business analysis professional across many exciting fields.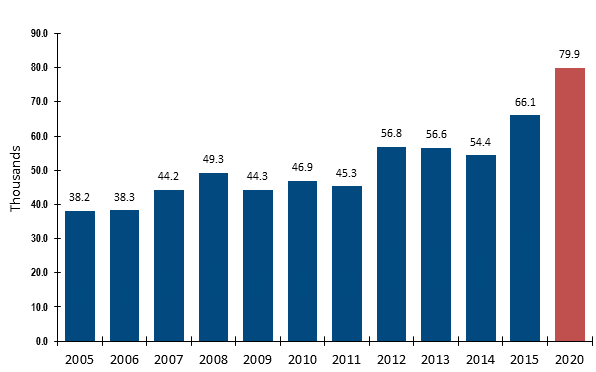 The graph shows historical and projected (to 2020) employment levels (thousands) for Business Analysis Professionals.
Source: *Job Outlook Government website. ABS Labour Force Survey, Department of Employment trend data to November 2015 and projections to 2020.
Throughout the five years to November 2019, the number of job openings for this occupation is expected to be above average (between 25,001 and 50,000). Job openings count both employment growth and turnover (defined as workers leaving their occupation for other employment or leaving the workforce).
Employment for this profession has shown strong growth over the past five years, with a very strong rise in the profession over the last decade.
The employment outlook for this very large occupation (66,100 in November 2015) is looking very solid. Opportunities for this occupation are predicted to grow towards 2020.
This chart shows median weekly earnings for Business Analysts compared with the median across all occupations, for total employment and for full-time workers. Earnings are before tax and do not include employer superannuation contributions.
Earnings for this occupation are high comparative to other occupations, falling in the ninth decile.
Source: *Job Outlook Government website. Source: ABS Characteristics of Employment Survey August 2014 cat. no. 6333.0.
Note: These figures are indicative and cannot be used to determine a particular wage rate.
Payscale.com lists the wage for Business Analysts (in Australia with 5 years' experience) as being between a median of $82 426 per annum and $110 785 at the highest end of the market.
Please note: For roles in this occupation rates of pay will vary depending on the type of business and the type of environment.
The graph shows the average weekly hours (by gender and full-time and part-time) worked for Business Analysts, compared with all occupations.
Professionals in this occupation largely hold full-time jobs (83.7%). For Analysts doing a full working week, the average hours at work are 40.3, just a little above the average of 40.2 for all occupations. Unemployment for those in the field of Business Analytics is below average.
Source: *Job Outlook Government website. ABS Labour Force Survey, annual average 2015.
Note: Estimates have been rounded and consequently some discrepancies may occur between sums of the component items and totals.
This data shows the share of employment (per cent) by age group for Analysts, compared with all occupations.
The Business Analytics industry appeals to individuals at different stages in their career, as shown in the chart above. The profession attracts a healthy percentage of workers in each of the main three age brackets: Early career, Mid-level, and Senior.
Source: *Job Outlook Government website. ABS Labour Force Survey, annual average 2015.
Note: Estimates have been rounded and consequently some discrepancies may occur between sums of the component items and totals.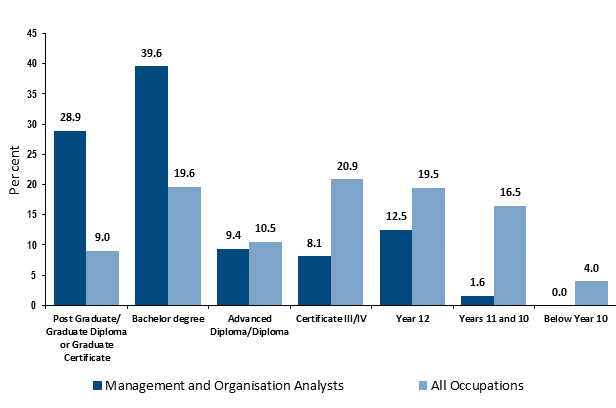 This data shows the highest educational attainment (per cent share of employment) for a Business Analyst compared with all occupations.
As the chart shows, a Bachelor degree is the most common level of education attained by people in this profession (39.6 per cent), however a high number of professionals in the field go on to further their education by attaining Graduate Diplomas or Graduate Certificates.
Source: *Job Outlook Government website. Source: ABS 2015 Survey of Education and Work (SEW).
Note: Estimates have been rounded and consequently some discrepancies may occur between sums of the component items and totals.
*all courses with a course code preceding the qualification name are nationally accredited. Click through to the course descriptions for more information, and to see codes.
A comprehensive and all-round course to get your foot in the door of a business career. The BSB50215 Diploma of Business provides a cutting-edge snapshot of the current business world. You'll develop the skill-set required by the modern company, including knowledge of project management, human resources and online business. Plus, this course opens up pathways with several major Australian universities.
This course will help you develop a wide range of business skills and give you tools in communication, customer service, finance, management and marketing. Throughout this course you'll learn how to conduct market research and support the marketing activities of a business, plus you'll gain a nationally recognised BSB40215 Certificate IV in Business.
The next step up for the career administrator, this course provides high-level administration skills to efficiently manage office professionals. Learn how to organise business travel, arrange meetings, coordinate business resources and implement environmentally sustainable workplace practices, amongst many other skills. This course also provides a great pathway to ongoing studies.
With a focus on financial skills, this is an all-round course that will prepare you to take on a variety of in-demand office administration roles. By combining a finance component with business administration, you'll have skills and insider knowledge that will keep your job in-demand and interesting. This is simply a great all-round qualification and a real way to get ahead.
This double qualification will give you leadership and management and business administration skills, and could give you a business advantage over other potential candidates. The course is ideally suited to those already working and wishing to advance their careers or to new supervisors and team leaders wanting to build the requisite skills.
A professional and diverse introductory course that will give you all the basic knowledge you need to perform as a top-level business administrator. The BSB30415 Certificate III in Business Administration arms you with skills such as payroll, keyboard and computer functions, scheduling, creating presentations, spreadsheets, and much more. Build your confidence in a wide area of business applications, particularly if it's been some time since you worked in a similar role.
This accredited course has been specifically developed to help aspiring business owners and managers establish sound frameworks for their small businesses. The Certificate IV in New Small Business is a nationally recognised qualification and provides a solid foundation for managing a small business. Amongst many other skills, you'll learn about legal and risk management requirements, legislation and regulatory requirements and how to develop a financial plan.
Add marketing expertise to your small business management skills to get a head start against the competition, without extended costs or study time. Designed for small business owners and managers wishing to acquire marketing skills, as well as those moving into digital marketing or sales role within a small business, this course offers students two complementary skill-sets without doubling their time and cost investment.
Why Study Business through Open Colleges?
Our Business courses are delivered online, giving you the flexibility of organising your study around your life. You can enrol anytime of the year and study at your own pace. Read up on some business tips and advice from Australia's leading business experts.
You'll learn fundamental and advanced business concepts on top of gaining industry relevant qualifications that suit your pathway and career goals. We've partnered with numerous reputable and established industry players to ensure our students learn from the best minds in the sector. Gain an insight into success through the eyes of some of Australia's most high profile business women here.
Your course includes comprehensive student support to help you throughout your study. See our infographic for a snapshot of the business industry so you can start planning your own exciting career in business.
Last year, the Australian Bureau of Statistics released new figures that demonstrate that Australian businesses of all sizes are growing. There are now fewer businesses that have fallen into the "ceased trading" category this financial year compared to last year, when compared to the year before. (ABS Media Release: Business numbers on the rise again).
"Although there was actually a small drop in the number of new business registrations, fewer businesses closed, giving a total rise of one per cent in business numbers - an additional 21,000 businesses for that year," said Mike Booth from the ABS.
Finance and insurance services were the fastest growing sector, but this was almost entirely driven by superannuation funds, according to the ABS. Australia now has more than 2.1 million business trading, this is an increase of 21,000 businesses to the 2.1 million businesses that were actively trading in the 3 years prior.
"Although there was actually a small drop in the number of new business registrations, fewer businesses closed, giving a total rise of 1 percent in business numbers," said Booth.
Suzi Dafnis
CEO & Founder
The beginning of Suzi's career in Business - from Business Professional to CEO

Suzi Dafnis is the founder and CEO of the HerBusiness, formerly known as the Australian Businesswomen's Network. A recognised blogger, podcast host, media commentator, social media instructor, public speaker and long-time digital marketer, Suzi is a advocate for education and entrepreneurship amongst women. She has founded businesses in Australia and overseas.
"What would you do even if you didn't get paid?"
What has been your number one secret to career success?
Education - An ongoing commitment to improving my business skills. Inspiration - access to inspiring role models. Mentoring - the wisdom of mentors and advisors.
What advice would you offer in terms of how to select a career path?
What would you do even if you didn't get paid? What do you value most? Where do you feel you can make a difference? Ask yourself these questions and take that direction. Be prepared to make mistakes and to change course.
Have you changed careers at any point? Please tell us in brief about your personal career journey.
I went from various marketing roles to a business owner at age 27. This was a HUGE difference as suddenly I had to learn new skills quickly and learn how to make money off my own efforts.
What did you study? What role has your education played in shaping your career?
Marketing, media and communications. Education continues to be key to my development and success. Markets change and trends change so you can't sit still when it comes to your knowledge.
How can we encourage and support more female entrepreneurs in Australia?
Promote entrepreneurship as a career option in school and start to train on the basics of running a business, instead of only steering people towards careers as employees.
What inspired you to start your business, HerBusiness?
We're an online publisher and education provider so our website and blog are our main communication tool with our clients and prospects. Our award-winning HerBusiness Blog allows us to showcase the talent of great female entrepreneurs.
Ready to take the next step towards your career?
As a certified Business Analyst you'll have a firm footing in the real world when it comes to understanding the changing needs of a business, be it managing your own business, jumping on board with a start-up, or using your knowledge and skills to support an established firm.
Fill in your details below to receive a course guide and a consultation with an Enrolment Consultant. If you've been thinking about changing careers, snagging that promotion, or if you want to drive your Business career to the next level, take the plunge today!